---
History of Red Herring Morris
Red Herring Morris was formed in January, 2000 by a merger of Lemon & Capers Morris and Middlesex Morris.
Predecessors
Middlesex Morris, the Boston area's first mixed team, was formed in the summer of 1984. Middlesex Morris's founder was Sue Jick, who had started dancing with Oak Apple morris in Madison, Wisconsin, and started Middlesex Morris when she moved to Boston because she wanted to continue dancing on a mixed team. Middlesex Morris originally performed dances in the Headington style. Within the next few years, the team added Bledington and Ilmington to its repertoire. In 1991, Middlesex Morris switched to dancing exclusively Fieldtown dances.
Original dances by Middlesex Morris include One for Matthew (1989), David's Farewell (1990), Wedding Day Celebration (1991), Fireworks (1994), The Tie that Binds (1996), and Antarctic Circles (1996).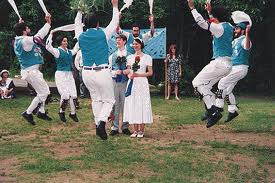 Middlesex Morris dances The Rose
at Brian Wilson & Annette Sassi's
wedding, June 1996.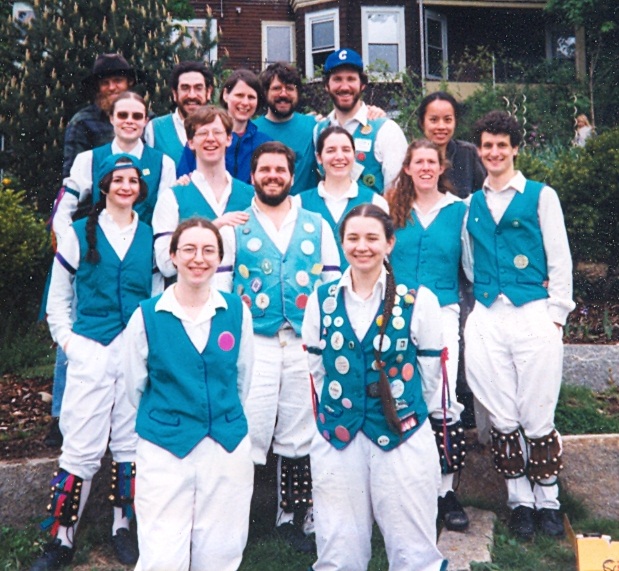 Middlesex Morris at the Somerville Community Growing Center, late 1990s
Back Row: Forrest Larson, Dan Groher, Jerry Callen, Sean Smith
Fourth Row: Bina Arch, Annette Sassi, Mai Pham
Third Row: A.J. Liuba, Brian Wilson, Kerstin Haug, Sue Jick, David Roodman
Second Row: Jeff Bigler
Front row: Megan Morris, Anne Cross
Lemon & Capers Morris was formed in 1985 by Kari Smith and other alumnæ of Tony Barrand's "English Ritual Dance and Drama" class at Boston University. Lemon & Capers was initially a women's side; the team became mixed in 1993, when declining membership might otherwise have forced them to disband. Lemon & Capers originally performed exclusively its own version of Bampton; probably the best-known dance written for this style is Simon's Fancy, written by by Jocelyn Reynolds. The side added Duns Tew to its repertoire in 1998.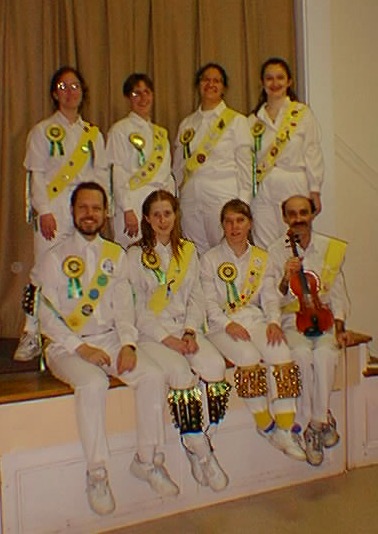 Lemon & Capers Morris in 1997.
Back: Debbie Lewis, Anne Theriault, Vonnie Carts-Powell, Linda Julien
Front: Rob Berra, Elizabeth Ditchburn, Rebecca Jordan, Allan Wechsler
The Merger
By the 1999 season, both Middlesex Morris and Lemon & Capers were experiencing declining membership, resulting from members taking time off to care for their children, moving away, or developing chronic injuries that were aggrivated by dancing. In the spring of 1999, Middlesex Morris foreman Jeff Bigler approached Lemon & Capers foreman Rebecca Jordan about the possibility of merging the two teams.
In the fall of 1999, Middlesex Morris found that it no longer had enough active members to continue dancing. The remaining members of Middlesex voted to approach Lemon & Capers about merging the two struggling teams into a single larger team.
Both teams separately discussed the idea of merging, and decided to give it a try. The two teams held a combined AGM in January 2000 and voted to merge, with the newly formed team taking on the name "Red Herring Morris".
During Red Herring's first few seasons, several team members also danced with Boston's first border morris team, MOTley Morris. (The "MOT" in MOTley stood for "My Other Team".) When MOTley stopped dancing in 2004, some of the members of MOTley joined Red Herring. The following season, Red Herring Morris started performing border morris dances.
Repertoire
Red Herring continued dancing the Duns Tew repertoire of Lemon & Capers, adding some new stick dances to the existing repertoire of hankie dances. The team performed Sherborne dances from 2002-2005, and Border dances starting in 2005.
Original dances by Red Herring include Shooting (2001), Border Crossing (2007), Captain Bike (2008), The Fool and the Bag (2009), Moonstruck Marrow (2009), Charlotte's Web (2011), and Clockwork (2012).
Fearless (?) Leaders
| Foremen | Squires | Bagmen |
| --- | --- | --- |
| Rebecca Jordan 2000-02 | h MacKiernan 2000-01 | Megan Morris 2000-04 |
| Linda Julien 2002-04 | Jeff Bigler 2002-05 | Phill Nimeskern 2005-2012 |
| Joan Ruland 2004-05 | Jeff Keller 2005-07 | Natalie Olsen 2012-present |
| Jeff Bigler 2005-07 | Natalie Olsen 2007-08 | |
| Jeff Bigler & Jeff Keller 2007-10 | Rickland Powell 2008-09 | |
| Jeff Bigler 2010-present | Charity Stafford 2009-11 | |
| | Susan Gere 2011-2012 | |
| | Shirley Márquez Dúlcey & Rickland Powell 2012-13 | |
| | Rickland Powell 2013-14 | |
| | Kate Potter 2014-15 | |
| | Vickie Valencia 2015-2017 | |
| | Liz Cademy 2017-present | |
Kit
Red Herring's original kit, from 2000-2004, consisted of a gold vest with scarlet trim and a herring emblem on the back, white trousers, black shoes, and arm ribbons. Here is the first Red Herring team photo, from NEFFA 2000: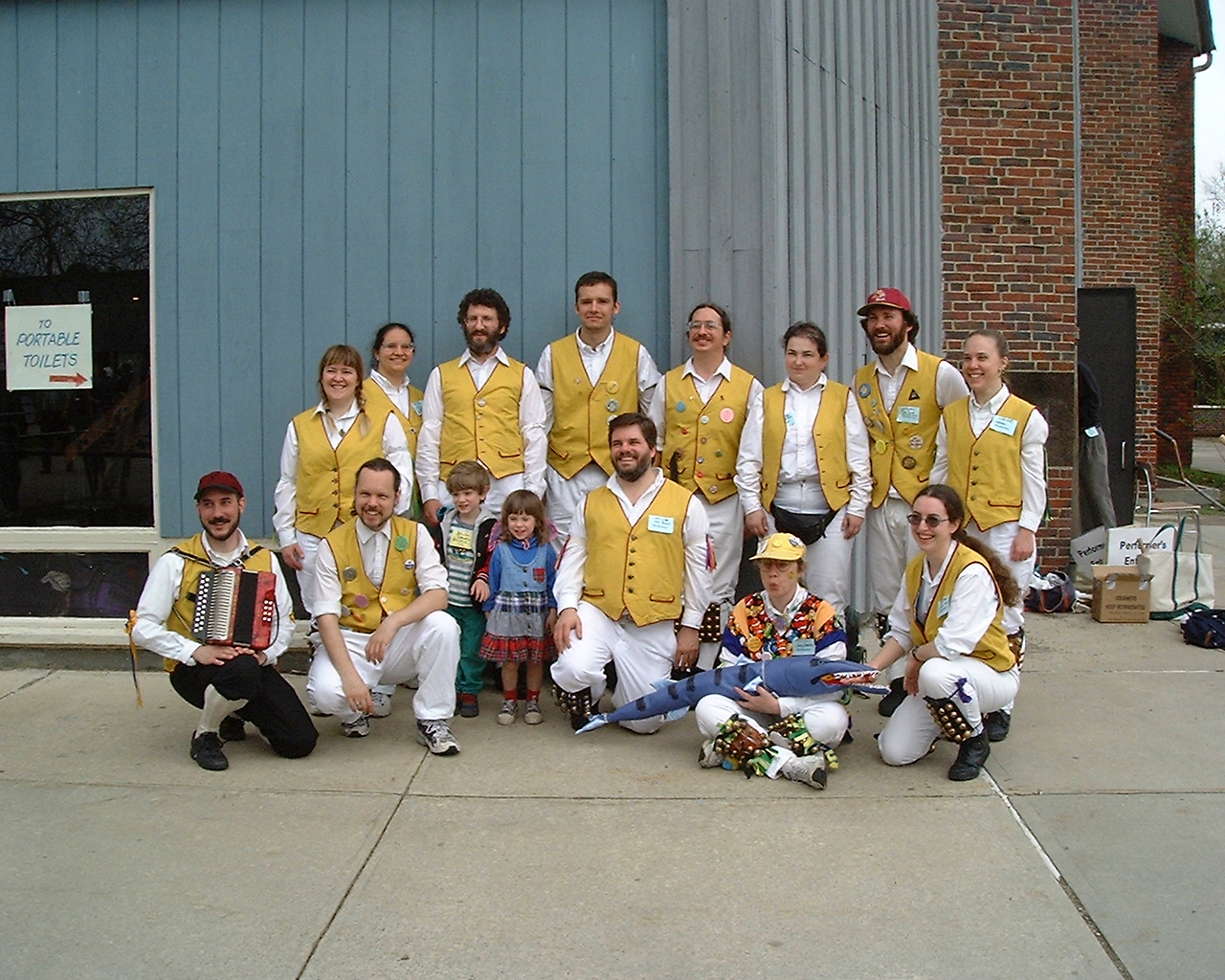 Red Herring Morris makes its first appearance at NEFFA 2000
Back Row: Francie Selkirk, Vonnie Carts-Powell, Lee Breslow, h MacKiernan, Andy Klapper, Rachel Klein, Sean Smith, Rebecca Jordan
Front Row: Chris Ricciotti, Rob Berra, Samuel Breslow, Emma Breslow, Jeff Bigler, Cindy Baehr, Megan Morris
In 2004-05, the kit was changed to a white shirt, black trousers, red and yellow rosettes and arm ribbons, a black bowler hat with a red band, and black shoes: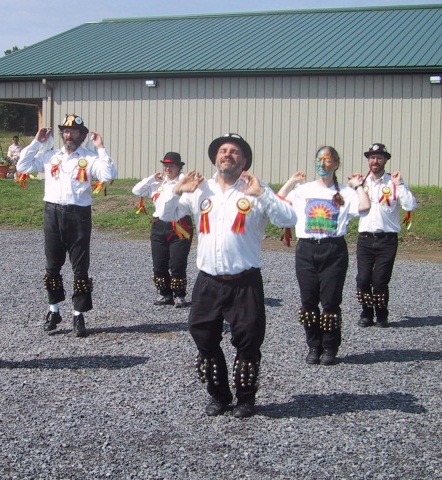 Red Herring Morris dances at the 2004 Dog Days Ale
Left to Right: Lee Breslow, Vonnie Carts-Powell, Jeff Bigler, Debbie Lewis, Jeff Keller
In the fall of 2005, the kit was changed to its present version, keeping the bowler and black trousers, but switching to a red shirt and omitting the rosettes, as shown in this photo from the 2006 Toronto Ale: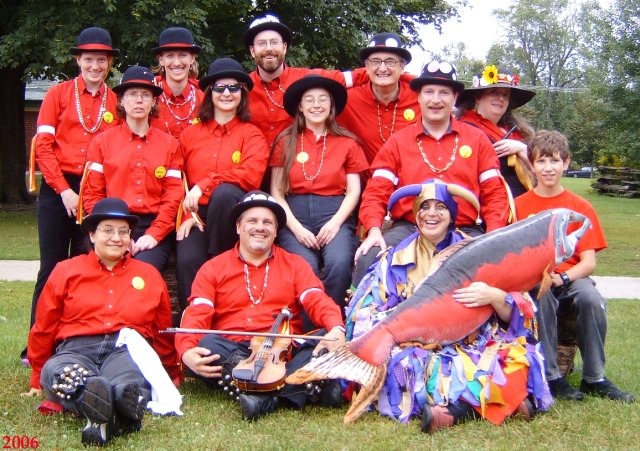 Red Herring Morris at the 2006 Toronto Morris Ale
Back Row: Emily Hall, Annemarie Haselgrove, Jeff Keller, Phill Nimeskern, Elizabeth Stone
Middle Row: Natalie Olsen, A.J. Liuba, Susie Lorand, Rickland Powell, Rex Powell
Seated: Vonnie Carts-Powell, Jeff Bigler, Lynn Noel
In the summer of 2007, we had red T-shirts made with our new logo. On hot summer days, we wore "summer kit:" the T-shirt with black trousers, omitting the arm ribbons and sometimes the bowler hat.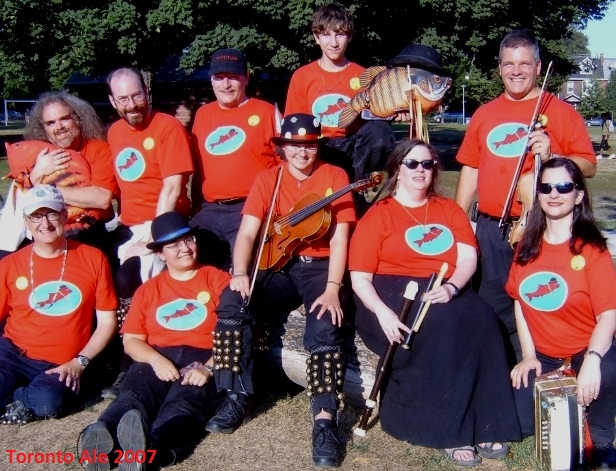 Red Herring Morris at the 2007 Toronto Morris Ale
Back Row: Mark Dulcey, Jeff Keller, Rickland Powell, Rex Powell, Jeff Bigler
Front Row: Phill Nimeskern, Vonnie Carts-Powell, Char Morgan, Elizabeth Stone, A.J. Liuba
During the 2008 & 2009 seasons, we added "fish scale" rag vests, which we now wear over either the long-sleeve red shirts or T-shirts, as shown in this photo, from NEFFA 2012.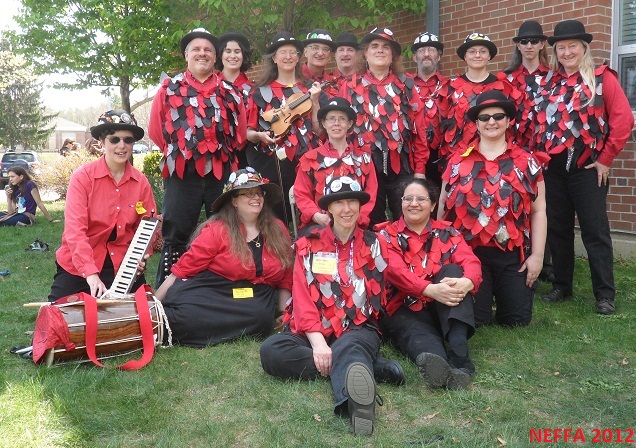 Red Herring Morris at the 2007 Toronto Morris Ale
Standing: Jeff Bigler, Maggie Klureza, Patricia Hawkins, Phill Nimeskern, Rickland Powell, Shirley Márquez Dúlcey, Lee Breslow, Char Morgan, Rex Powell, Susan Gere
Kneeling: Jean Monroe, Natalie Olsen, A.J. Liuba
Seated: Elizabeth Stone, Anna Barrett, Vonnie Carts-Powell