2014 "Kettle of Fish" Ale
Saturday Evening October 11 - Monday Morning October 13, 2014
Salem & Boston, MA
Once again, Red Herring Morris will be holding our annual "Kettle of Fish" Ale on Columbus Day weekend. However, to accommodate out-of-town guests, we will have a full day of dancing on Sunday October 12, and a half-day on the morning of Monday October 13. This will allow for guests to travel to the ale on Saturday and to travel home on the Monday holiday.
Teams Attending
The following teams have confirmed that they're coming:
A Sworded Affair (Burlington, VT)
Great Northern Border (Minneapolis, MN)
Ladies of the Rolling Pin (Wakefield, RI)
Red Herring Morris (Belmont, MA)
We're eagerly awaiting confirmation from a couple more teams.
If you would like to be added to (or removed from) the list of invitees to this and future ales, please fill out the form at the bottom of this page.
Schedule
Saturday October 11: Meet & Greet
6:00-11:00pm Meet & greet, 22 Clifton St., Belmont, MA
Sunday October 12, Salem, MA
Times
Description
10:00-11:00
Salem Willows Park
167 Fort Ave., Salem
11:30-1:00
lunch
O'Neill's
120 Washington St., Salem
1:30-3:00
Salem Common
bounded by Washington Square N, S, and E
3:30-5:00
Derby Wharf/Salem Maritime National Park
160 Derby St.
5:30-10:00
dinner
Jeff Bigler's house
8 Little Nahant Rd., Nahant
Dinner at Jeff Bigler's house in Nahant.
Monday October 13, Boston, MA
Most of the participants are going home on Sunday evening, so it will be a small group on Monday. We will meet on the Cambridge Common (1667 Massachusetts Ave, Cambridge, MA) at 11:00am to decide on the schedule. Tentatively, we'll dance for a while and then adjourn to a nearby restaurant for lunch.
Directions
The ale booklet, which includes directions to the dance stands, parking and dinner location, is available for download. Printed copies will be available at the Saturday Meet & Greet and at the first stand on Sunday.
Note: There is an error in the booklet. Lunch is at O'Neill's, at 120 Washington St. The information in the booklet (Murphy's) is incorrect. Please see the corrected map.
Billeting
Out-of-town guests will be billetted at the homes of members of Red Herring Morris.
Meals
We will provide a barbeque on Saturday evening, a restaurant lunch and catered dinner on Sunday, and a restaurant lunch on Monday for those who can stay. Breakfast for out-of-town guests will be provided by their hosts.
Food and soft drinks will be provided with lunch, but guests will need to purchase any alcoholic beverages they want. Food and drink (including beer) will be provided for dinner.
Cost
All weekend (Saturday evening through Monday lunch):

Adults (age 21 and over): $60
Teenagers (ages 13-20): $45
Children (ages 5-12): $30
Children under 5: free

Dancing and one meal only:

Adults (age 21 and over): $35
Teenagers (ages 13-20): $25
Children (ages 5-12): $15
Children under 5: free
T-Shirts
This year's T-shirt design, by A.J. Liuba and Jill Singer, shows one version of how the Friendship was smuggled to Derby Wharf in Salem in a growler full of beer: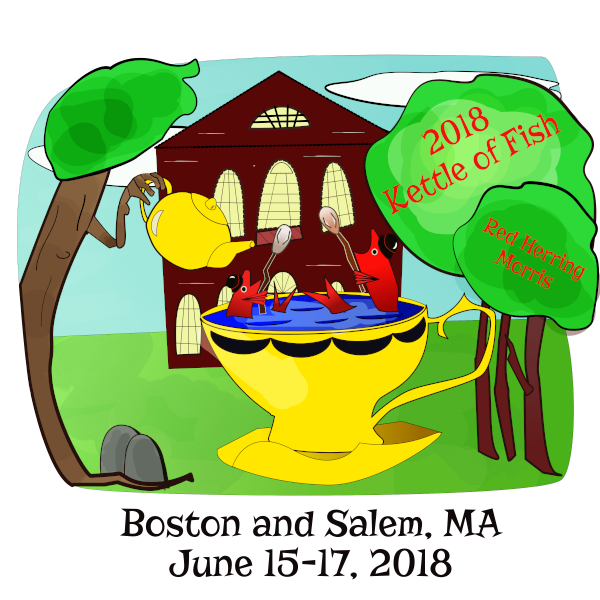 T-shirts are available in cotton for $13 or a moisture-wicking "performance material" for $18. The shirts are available in several colors.
All shirts must be pre-ordered by September 20.. (If you don't pre-order, we won't order a shirt for you.)
Buttons
We will provide ale buttons, most likely with the funny slogans. If you're curious, you can read the collection of ale button slogans.
Weather
In the fall in New England, the weather is usually cool, but just about any kind of weather is possible, including beautiful & sunny, hot & muggy, or cold & rainy. Check the forecast close to the event and watch this space for details.

In the event of light rain, we will dance as scheduled. If it rains heavily we have alternate plans with indoor locations. Watch this space as we get closer to the event.

If you would like to be added to (or removed from) the list of invitees to this and future ales, please fill out this form.