---
2015 "Kettle of Fish" Ale
Friday May 29 - Sunday May 31, 2015
Boston & Western Suburbs, MA
Red Herring Morris has moved our annual "Kettle of Fish" Ale back to the spring. This year, the "Kettle of Fish" will take place on the last weekend in May.
Teams Attending
The following teams have confirmed that they're coming:
A Sworded Affair (Burlington, VT)
Bassett Street Hounds (Syracuse, NY)
Jack in the Green (Peterborough, NH)
Midnight Capers (Central VT)
Not for Joes (New London, CT) (Saturday only)
Pipe Dream (Belmont, MA)
Red Herring Morris (Belmont, MA)
Snowbelt Morris (Rochester, NY)
Stick 'n the Mist (Northampton, MA)
If you would like to be added to (or removed from) the list of invitees to this and future ales, please fill out the form at the bottom of this page.
Schedule
Friday May 29: Meet & Greet
6:00-11:00pm Meet & greet, 22 Clifton St., Belmont, MA
Saturday May 30, Metrowest Suburbs outside Boston, MA
Times
Description
10:00am-noon
Drumlin Farm
208 South Great Road; Lincoln
Tell the attendant that you're a performer and park in the auxiliary lot.
12:30-2:00pm
lunch: Copper House Tavern
380 Winter St., Waltham
2:30-3:30pm
Tour A: Codman Estate
34 Codman Rd., Lincoln


Bassett Street Hounds
Jack in the Green
Midnight Capers
Pipe Dream
Stick 'n the Mist

Tour B: Depot Square
1825 Massachusetts Ave., Lexington


A Sworded Affair
Not For Joes
Red Herring
Snowbelt


4:00-5:30pm
Joey's Park
Winn Brook School
97 Waterhouse Rd., Belmont
6:00-10:00pm
dinner: Arlington Senior Center
27 Maple St., Arlignton
Assuming we have callers who are willing, there will be a contra dance. You can download our collection of contra tunes if you would like to look at them in advance.
Sunday May 31, Boston, MA
Times
Description
10:30-12:00
Boston Children's Museum
308 Congress St., Boston
12:30-2:00
lunch: Barney Fanning's
99 Broad St., Boston
2:30-4:00
Boston Common
0 Charles Street, Boston
(across from the Public Garden)
Massed Dances
Massed dances will be chosen from the following:
Cotswold
Border
Directions
The ale booklet, which includes directions to the dance stands, parking and dinner location, is available for download. Printed copies will be available at the Friday evening Meet & Greet and at the first stand on Saturday.
Billeting
Out-of-town guests who need a place to stay will be billetted with members of Red Herring Morris and other Boston-area morris families.
Meals
We will provide dinner at the Meet & Greet on Friday evening, a restaurant lunch and catered dinner on Saturday, and a pub/restaurant lunch on Sunday. Breakfast for billeted guests will be provided by their hosts.
Food and soft drinks will be provided with lunch, but guests will need to purchase any alcoholic beverages they want. Food and drink (including beer and cider) will be provided with dinner.
Cost
All weekend (Friday evening through Sunday lunch):

Adults (age 21 and over): $60
Teenagers (ages 13-20): $45
Children (ages 5-12): $30
Children under 5: free

Dancing and one meal only:

Adults (age 21 and over): $35
Teenagers (ages 13-20): $25
Children (ages 5-12): $15
Children under 5: free
T-Shirts
This year's T-shirt design, by Jill Singer, shows the effect that the winter of 2015 has had on Red Herring's dances: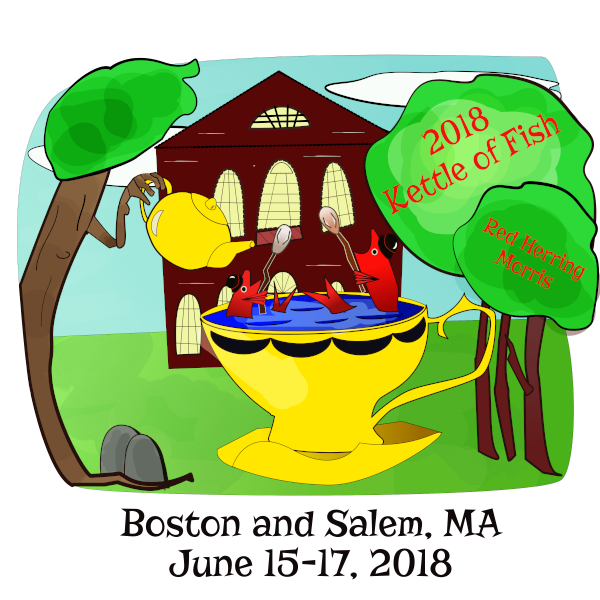 The T-shirt order has already been placed. We have ordered a couple of extras, which we will sell at the ale on a first-come, first-serve basis.
Buttons
We will provide ale buttons with quotable quotes. If you're curious, you can read the collection of ale button quotes.
Weather
In late May in New England, the weather is usually warm and sometimes hot, but just about any kind of weather is possible, including beautiful & sunny, hot & muggy, or cold & rainy. Check the forecast close to the event and watch this space for details.

Here is the weather forecast for Boston and vicinity.

A 30-day weather forecast for Boston is also available.

In the event of light rain, we will dance as scheduled. If it rains heavily we have alternate plans with indoor locations. Watch this space as we get closer to the event.

If you would like to be added to (or removed from) the list of invitees to this and future ales, please fill out this form.